KAZANG DEPOSIT METHOD
To Make an INSTANT KAZANG DEPOSIT, you must be logged in.
STEP 0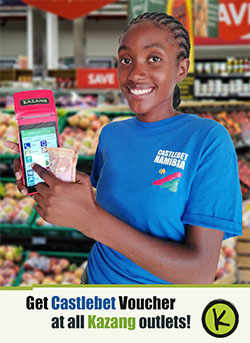 Go to any Kazang Agent and follow the steps below
STEP 1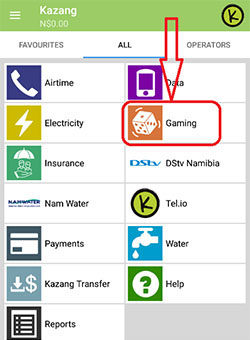 Select GAMING from the main menu
STEP 2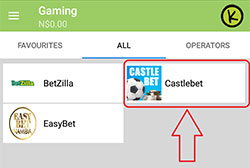 Select CASTLEBET from the list of gaming merchants
STEP 3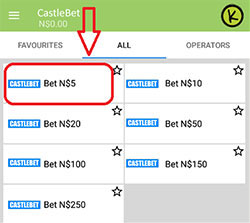 Select the amount you want to deposit. Eg N$5
STEP 4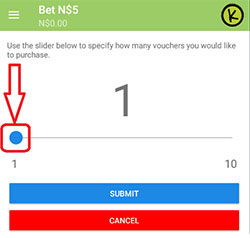 Use the slider to choose how many vouchers you want
STEP 5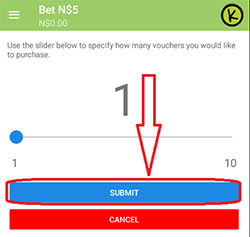 Submit your selection
STEP 6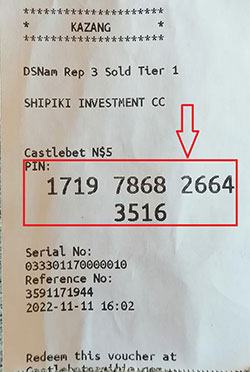 Your PIN is the Voucher number to use on Castlebet
STEP 7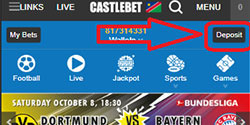 To redeem your voucher, Login to CASTLEBET.com.na and select DEPOSIT
STEP 8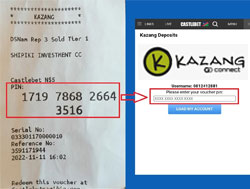 Enter your 16-digit voucher pin and Select LOAD MY ACCOUNT
---
Go to your CastleBet account and refresh your balance. Your deposit will reflect within 60 seconds.
If your payment does not reflect within 60 seconds please click here to contact us